Taisho era (1912-1926), circa 1915, unsigned 
Bow: 179cm (70,5in) 
Arrows: each 67cm (26 3/8in)
Quiver: 28cm x 20.5cm x 6.5cm (11in x 8 1/8in x 2,5in)
The bow with its set of arrows was prepared for the enthronement ceremonies for the Taisho Emperor in 1915. It belonged to the sculptor Sano Akira, who served as a Taireishi Kotokan (High Ceremonial Officer) at the event. The bow is decorated with imperial paulownia crests and tendrils in gold lacquer. It also has silk wrappings and gilt metal fittings. The set of 15 arrows has lacquered shafts, gilt-metal tips and feather flights. The set is fittet with a wooden storage box and an ebira (quiver), also decorated wit gold lacquer, silk tying cords and other components.
//Taisho-Zeit (1912-1926), ca. 1915, unsigniert
Bogen: 179cm (70,5in) 
Pfeile: jeder 67cm (26,3/8in) 
Köcher: 28cm x 20,5cm x 6,5cm (11in x 8 1/8in x 2,5in)
Der Bogen mit dem Pfeilset wurde für die Krönung des Kaisers zur Taisho Zeit im jahr 1915 angefertigt. Sie gehörten dem Bildhauer Sano Akira, welcher als hochrangiger Zeremonial-Offizier während diesem Ereignis diente. Der Bogen ist mit kaiserlichen Paulownia-Wappen und Ranken in Goldlack dekoriert. Außerdem sind daran Umwickelungen aus Seide und Metall-Armaturen befestigt. Die Pfeile, bestehend aus einem 15-teiligen Set, besitzen lackierte Schäfte, vergoldete Spitzen aus Metall und Pfeilfedern. Das Set ist mit einer Holzkiste und einem Köcher, ebenfalls dekoriert mit Goldlack, Kordeln aus Seide und anderen Verzierungen, ausgestattet.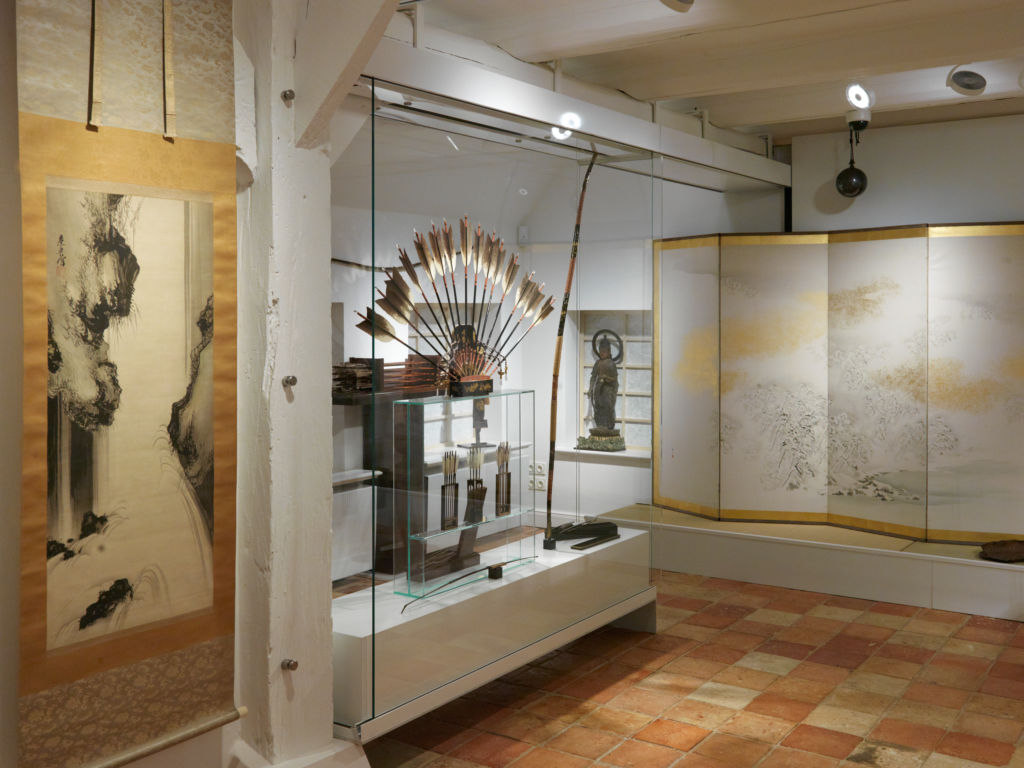 Sano Akira (1865-1955)
Sano Akira was born in Edo (now Tokyo) and attended the very first sculpture class at the Kobu Bijutsu Gakko (Industrial Art School, the predecessor of the Tokyo School of Art and Tokyo University of the Arts). Together with other young artists he helped founding the Hakubakai (White Horse Association), an independent group which sought to break free of the bureaucratic methods of the Meiji Bijutsukai.
//Sano Akira (1865-1955)
Sano Akira wurde in Edo (heute Tokyo) geboren und besuchte die erste Bildhauer-Klasse am Kobu Bijutsu Gakko (Die Industrielle Kunstschule, dem Vorläufer der Tokyo Schule der Kunst und der Tokyo Universität der Künste). Zusammen mit anderen jungen Künstlern half er dabei, die Hakubakai (White Horse Association) zu gründen. Dies war eine unabhängige Gruppe, welche sich gegen die bürokratischen Methoden von Meiji Bijutsukai stellte. 
This Image shows Sano Akira with a similar ceremonial archery equipment as the one exhibited in the IFICAH museum during the enthronement ceremony of the Taisho Emperor//Dieses Bild zeigt Sano Akira mit einer ähnlichen zeremoniellen Bogenausrüstung wie sie im IFICAH Museum ausgestellt ist während der Krönung des Kaisers zur Taisho-Zeit.